Sorry but no further bookings are available.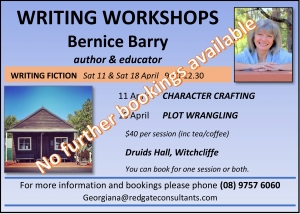 Fiction this time.
Two consecutive Saturday mornings, 11th & 18th April, and you can book for one or both.
I'm using this lovely Heritage venue again, Druids Hall in Witchcliffe near Margaret River. Limited to 12 places for each session so let me know if you're interested!!
Timing will be 9.30-12.30 and each session will be $40 (including tea/coffee)
For more details, or to book a place, please contact me at georgiana@redgateconsultants.com