Hello and welcome! If you want to know a bit about me, you're on the right page.
First, the latest news!
My new book, 'A Lady's Pen: the botanical letters of Georgiana Molloy', is available NOW in bookshops and online booksellers, and from the UWAP website.
University of Western Australia Publishing will be releasing a new edition in late 2023.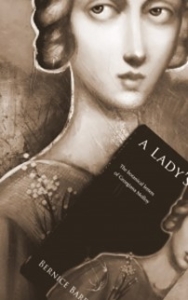 'A Lady's Pen' provides the first complete, unedited transcriptions of Molloy's botanical letters to James Mangles and the first comprehensive list of species in her collections, including many not previously associated with her. We see her here as a scientist and a writer but, most of all, this is the story of a place and its biodiversity, the plants that are still evidence of uniqueness, the physical outcomes of being a living organism in the ecosystem of the species rich Southwest Australian Floristic Region.  The main characters in A Lady's Pen are the plants.
Molloy's interaction with them was more invasive than if she had just admired them or picked them for flower arrangements in the home. Her work meant that she removed them from their environment, ending their lives within their native habitat but she gave enduring life to their stories,  narratives of plant diversity that are still studied locally and worldwide today.
Please check the NEWS tab on here for information about talks and events.
 'Fact after fact follows in the rear of its predecessor, and discovery rolls on like a mighty stream,
proving with a force irresistible, that its resources are boundless.'
     Robert Marnock, Curator of the Royal Botanical Society, 1841
And here's my own story.
I grew up in the UK, on the Atlantic coast of Cornwall, so the ocean and the beach feel like home to me. After a lot of poetry and folk music and five hours a day practising guitar, I studied English in what was then 'swinging London', living in grimy bedsits infested with mice. My love affair with history and literature intensified and I finally left the city with a BA in English and a BA in French & Spanish. After a quick stint as a trainee buyer for a major chain store, a few months of private teaching in northern Spain and a job as a holiday tour rep near Barcelona, I remembered I was born to write and teach so I did a postgraduate year (Exeter University) and started my teaching career in Devon, living in a converted garage in a tiny riverside village. Two landlocked decades in the midlands followed, an Advanced Postgraduate Diploma in the teaching of reading and a Master's Degree in Education (Leicester University) with a special study on the teaching of writing. My last 'in-school' post was as Head of English & Drama before working across the region as an advisor and inspector in Northamptonshire, supporting schools as they implemented the first ever National Curriculum.
The government's new literacy strategy took me next to a much wider role as a Regional Director, training and supporting a team of forty consultants, providing professional development for 2,000 schools across eleven local authorities as well as a national responsibility for the use of technology in teaching English.
In 2001 I decided to work freelance and soon afterwards we moved halfway around the world to Australia's far southwest. It felt like coming home. As I fall asleep and when I wake, I can hear the ocean.
Creating a native garden in the bush and running a business in Margaret River kept me busy, in between writing and travelling internationally as a trainer, consultant and editor. It was a challenging and exciting time working for clients in places as diverse as London, Hong Kong, the Kingdom of Saudi Arabia and Malaysia. I wrote articles for Screen Education magazine on oracy, storytelling and writing including these, available online.
…and advised the National Curriculum Board (now ACARA) on a model and development strategies for our first Australian National Curriculum. I wrote widely for diverse clients including publishers, and government agencies, and delivered several very large training programmes including the Support for Writing package that became part of a £25 million professional development initiative. Creating those documents on text types, particularly writing and researching traditional tales (myths, legends, fairy tales, fables…) for the fiction section, was the most rewarding project I've ever worked on. The most challenging was being lead consultant to the Teacher Training Agency on development of the first tests in grammar, spelling and punctuation for student teachers in England and Wales.
At home in the far southwest of WA, I dug, planted, watered and watched, learning to love the indigenous plants as well as the animals and birds who live around me. It wasn't long before I started investigating local history and old passions quickly resurfaced. When a major consultancy contract suddenly fell through at the last minute, I had a free diary for the first time in years and made a life-changing decision to move to full-time writing. In 2012, I won the inaugural southwest writer's prize in the Margaret River Readers & Writers Festival and my short story was published by Margaret River Press.
In 2015, after more than ten years of research, my biography/memoir of local 19th century botanist and settler, Georgiana Molloy, was self-published in Western Australia and published in ANZ a year later by Pan Macmillan (Picador). In 2019 the eBook was published worldwide.
In the last few years, I've contributed to research and filming for documentaries
I enjoy every moment of being an author, especially the events, meeting readers and hearing their own stories.
So, my personal journey has been a long story so far. Here are some of the things I've learned along the way.
The best writers are readers.
There's no right way to write.
Hang on to grace and humility.
Words are wonderful.
It's never going to be easy.
Books bring people together.
Accept practical help or emotional support when you need them.
You'll never stop learning.
Look after your spine!