THE ROYAL WESTERN AUSTRALIAN HISTORICAL SOCIETY INC
The Community Talk on Georgiana Molloy with speaker Bernice Barry on Friday 20th March at 10 for 10:30am is now SOLD OUT.
If you missed out please ring the office or visit our Activities Page on our website www.histwest.org.au for details on upcoming History West Talks and Events.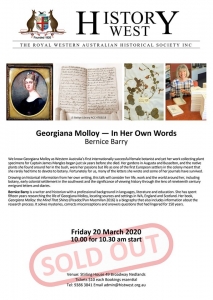 Georgiana Molloy — In Her Own Words
Bernice Barry
We know Georgiana Molloy as Western Australia's first internationally successful female botanist and yet her work collecting plant specimens for Captain James Mangles began just six years before she died. Her gardens in Augusta and Busselton, and the native plants she found around her in the bush, were her passions but life as one of the first European settlers in the colony meant that she rarely had time to devote to botany. Fortunately for us, many of the letters she wrote and some of her journals have survived.
Drawing on historical information from her own writing, this talk will consider her life, work and the world around her, including botany, early colonial settlement in the southwest and the significance of viewing history through the lens of nineteenth century emigrant letters and diaries.
Friday 20 March 2020
10.00 for 10.30 am start
Venue: Stirling House 49 Broadway Nedlands
Tickets $10 each Bookings essential
Tel: 9386 3841 Email admin@histwest.org.au