A quick update on what's 's been keeping me so busy for the last few months. I haven't added a blog post on here since October but I have been keeping up to date on my two Facebook pages, Instagram and Twitter so I haven't been slacking!
What have I been up to? I'm still in the business of trying to juggle several different writing projects at the same time and I've come to realise that it will always be that way. The work that's obsessed me for fifteen years, researching the history of the WA's southwest, continues and I don't think I'll ever be able to stop searching for more pieces of that historical jigsaw but I've also discovered that I love writing fiction.  Two years have flown by since the first nervous steps I took, months of research and a year of writing a draft of the first novel (currently known as 'Last Year's Manuscript') followed by a year of research and writing of 'This Year's Manuscript' while tweaking constantly at LYM which seems never to be completely finished. In the last few weeks I've also been pulling together the notes for a new non-fiction book, collecting all the new research gathered in the years since my biography of Georgiana Molloy was first published. I don't have a title yet and I have no idea how long the writing will take but if I can finish work on TYM soon, things might go more quickly. And, just in case there's ever any spare writing time hanging around, I've already done the research and first notes for Next Year's Manuscript. When I find the time to start writing NYM, it'll be another nineteenth century story, set in South Australia and Cornwall, the beautiful place where I grew up. The first chapter is based on a short story I wrote thirty years ago and kept to myself but it's been calling to me all this time.
Writing is one of the things that make me feel most alive, like living in a bright light, but there are often times when the same work, especially the research, feels like walking in shadows. The choices I've made for plots and settings in the last few years have taken me into history's dark corners. As I continue researching the lives of the Molloys and the other Augusta settlers, as well as the background for LYM, I come across information that shocks and saddens me, and I realise that being a historian and a writer both carry a heavy weight of responsibility. I'm not sure we can ever know the truth of the past, or even if there is such a thing,  but it's important to face full-on the evidence that surfaces.
Research for past and current projects has taken me many times to archives on slavery in British colonies and I've read so much that I didn't think there was more for me to learn about those terrible times. Last week when I was searching for information about the life of one particular individual, something new appeared on my screen and I was back again in those dark, terrible places, the hidden corners of history. Here's a summary. The information speaks for itself.
In 1795, when the threat of an invasion by Napoleon's forces seemed imminent, the British government felt they needed to raise a new regiment of soldiers to protect their interests in the highly valuable colonies of the West Indies. These islands had been providing huge wealth for years and important trade in sugar and rum. The army needed men quickly, so they purchased enslaved people from their enslavers, the plantation owners. The government also purchased enslaved men directly from the 'slavers', off the ships that had carried them from the places where they were captured on the west coast of Africa.
Between 1795 and 1808, the British government bought more than 13,000 enslaved men, paying around £80 for each human being. (This was roughly equal to an English curate's annual salary at that time.) The army believed their new troops would be more resilient to life in a tropical climate and the deadly Yellow Fever that was killing so many soldiers from Britain.
By the end of the eighteenth century, the British Army was the single largest purchaser of enslaved people.
There's a strong argument that they did more to continue slavery in the British colonies of the West Indies than anyone else, including the plantation owners, the 'slave factors' who bought and sold people at markets or the companies who owned and operated the 'slave ships' that carried enslaved people across the Atlantic Ocean.
There was already a huge wave of public condemnation of slavery but surely, in paying money to each enslaver, the British government acknowledged in a very public way their belief that one human being can have ownership over another.
A Private of the 5th West India Regiment 1812
J C Stadler after Charles Hamilton Smith: 'Costumes of the Army of the British Empire,
according to the last regulations 1812' National Army Museum         Public Domain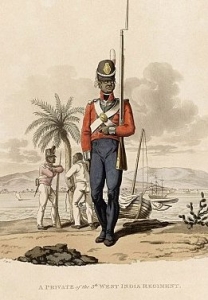 http://bernicebarry.com/bb/wp-content/uploads/slaveregister1829.jpg.jpg
278
657
Bernice Barry
Bernice Barry
2019-03-05 16:58:45
2019-08-01 07:35:49
LIGHT AND SHADOWS: the bright lights and the dark places of writing